Hello, it's Hiro.
Traveling to the Philippines, recently I can't travel abroad due to the corona sickness, but it was steadily popular until before COVID-19 situation.
You can enjoy various activities such as studying English, scuba diving, casino, karaoke, etc.
The Philippines is gradually gaining attention as one of the easy-to-go overseas travel destinations from Japan.
Flight time from all over Japan to Manila
The flight time from Tokyo / Haneda to Manila is 4 hours and 35 minutes.
・ The flight time from Narita to Manila is 4 hours 59 minutes.
・ The flight time from Osaka / Kansai to Manila is 4 hours and 2 minutes.
・ The flight time from Nagoya / Centrair to Manila is 4 hours and 23 minutes.
・ The flight time from Fukuoka to Manila is 3 hours and 45 minutes.
As you can see, Fukuoka-Manila flights tend to be the cheapest (especially for LCCs).
The manager mainly uses Nagoya and Osaka-Manila flights, but it feels like about 4 hours on average.
WIFI is indispensable for traveling to the Philippines.
As with any overseas travel destination, you can't live without wifi.
Be sure to prepare your own wifi environment.
My hobby is event management, so I have experience going to the Philippines more than 200 times, and I guarantee the credibility of this article.
3 reasons why you shouldn't bring rental wifi when traveling to the Philippines from Japan
Cost performance is not well
Below is a price comparison of the four major companies and the regular plan.
・GLOBAL WIFI ・ ・ ・ 2,890 yen (5 days) 578 yen / day  ※Regular plan
・Imoto no wifi ・ ・ ・ 3,200 yen (5 days) 640 yen / day  ※Large capacity plan
・Waiho ・ ・ ・ 2,895 yen (5 days) 579 yen / day  ※Regular plan
・Four Travel ・ ・ ・ 2,840 yen (5 days) 568 yen  ※Regular plan
I often use Imoto no wifi, but 3,200 yen is a little expensive for 5 days.
Even if you can get a cheap ticket, it will be expensive in the end, which is annoying.
High possibility of being stolen
When you traveling in Manila, I think that taxi travel will be the main transportation.
In the case of regulars, jeepneys, tricycles (two-seater bikes), pedicabs (two-seater bicycles) and trains are used, but
Manila is an area where the theft rate is still very high in 2021.
I also had my Iphone and wallet stolen when I first went to Manila.
It has never been stolen since then, but I remember crying at the hotel because I was disappointed that the photos I had stored on my Iphone were gone.
Even I was disappointed, I consulted with the local police, and for some reason I was taken to karaoke by police car by police man.
When I was told, "I should enjoy with girls and forget about it," I thought, "This country is great."
It's became a very good memory now.
By the way, there is a compensation service for rental wifi companies, but if it is stolen, you cannot use the wifi until you return to Japan, and the procedures after returning to Japan are tedious.
Luggage is bulky
When you go out, you want to keep your luggage as small as possible. If it is stolen, it can not be helped.
You have to consider how long it will last.
Summary
Purchasing LOAD locally is good cost performance & speedy
Firstly, when you arrive at the site, purchase LOAD at a convenience store
Pick up a taxi at the airport, and after arriving at the hotel, go to a convenience store to buy a road.
Road purchases can also be charged from a card or a terminal at a convenience store.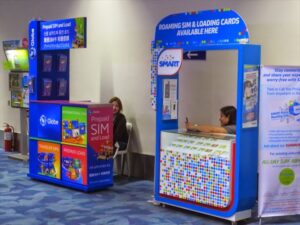 ※Installed at airport exits and malls
Convenience store terminals are often out of order, so we recommend purchasing a card.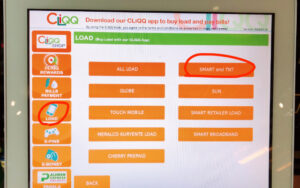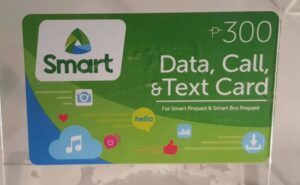 ※Located at 7-Eleven
Prices range from 100 pesos to 200 pesos, 500 pesos, and 1000 pesos, so i recommend to buy 200 pesos.
Depending on the length of your stay, 200 pesos will suffice for a 3-4 day weekend stay.
In my case, go to a convenience store, find a terminal, charge it from the terminal if you can use it, and purchase a card if you can not use it.
Most convenience stores do not have a card at the store to prevent theft, so you can tell the clerk that you want a card.
コンビニでの店員との会話例
An example of a conversation with a clerk at a convenience store
Me: Excuse me kuya / ate, Can I have a Load? Or call card?
Clerk: sorry?
Me: I mean, I want to buy call card, please?
Clerk: Ah Okay sir / maam. Which one? Globe or SMART?
Me: Globe please.
Clerk: How much sir / maam?
Me: 100 peso 2 pieces, please. Or 200 peso 1 piece, please.
Clerk: Okay po. Salamat po ~.
※Globe and SMART are the two major carriers in the Philippines. Let's match it with the SIM card.
I always use Globe. Both are the same in terms of performance. Either one is fine for me.
You can easily get it.
After purchasing the LOAD card, return to the hotel and scrape the silver part on the back of the card with a coin.
Dial 143 from your phone and follow the English instructions you receive, and the charge will be completed in 3 minutes.
There are plans such as Go SURF and SUPER SURF, but they are not so different.
If you stay for 3-4 days, you can use wifi 300 pesos is enough
In my case, I'm in trouble without wifi (I can't live), so in addition to the charge of 200 pesos, I put a few cards with a load of 100 pesos in my wallet.
This is insurance in case the wifi is not connected.
Even this, if you have a total of 300 to 400 pesos, you can spend 3 to 4 days without problems, and you do not have to go out with pocket wifi.
You can enjoy your trip safely.
Please enjoy your stay in the Philippines.
Regards,
hiro