Hello, it's Hiro.
This time, I would like to introduce an embarrassing episode that I experienced when I first went to the Philippines.
In 2014, I went to Manila for the first time. The first overseas trip in my life, and alone.
The reason I went to the Philippines was because I thought I could improve my English skills. At that time, my English level was below average, TOEIC 355 points only.
However, I started Skype English conversation from that time, and for some reason I was confident that there was no basis for English.
Then, Ms. Ja, who became a little familiar with Skype English conversation, she said, "Wait at the airport," and took a ticket to Manila. I didn't book the hotel yet. When I arrived at the airport, I thought I should take it appropriately.
It was a Jetstar flight from Centrair Airport to Manila, so I think it arrived around 1am.
When I arrived at Terminal 1, I didn't know which one to go, so I went down the hill with the flow of people, and a lot of people arrived at a place that seemed to be waiting for their arrival.
I looked for Ms. Ja. However, I wasn't that close to her, so I honestly didn't remember her face very much. She had a suitcase asked by her teacher, so she was set to know me from her.
I couldn't find her even after looking for about 20 minutes, and I became more and more anxious.
Manila has become safer now, but at that time, systems like GRAB and UBER had not yet developed, and it was the heyday of rip-off taxis.
※I will write another article about the horrifying story of a Manila taxi.
And finally the teacher found me! (lucky)
I heard later that the flight was delayed by 30 to 60 minutes, so she didn't know what time it would arrive.
Also, I had less than 10 Skype lessons with her, so she may have been skeptical about "Is he really coming?" and. yes, it's my fault.
After that, Ms. Ja talked to the people around her and took a taxi, and we went to the hostel where her brother was working.
LOKAL HOSTEL (The cheapest dormitory inn in Manila)
We arrived at a boarding house named Local Hostel in the middle of Burgos street.
When I first tried Burgos night abroad, I was a little worried because of the chaotic atmosphere.
・Room for 8 people, no air conditioner (fan only), 300 pesos・・300 peso
・6-person room with air conditioning (men and women)・・350 peso
・Quadruple room with air conditioner (men and women)・・400 peso
・Double room with air conditioner (men and women)・・800 peso
・Double room with air conditioner (men and women)・・1200 peso, with shower and bathroom
※bigger than a room of 800 peso
Shower, shared toilet, breakfast included.
* The menu may not have breakfast depending on the mood of the staff.
LOKAL HOSTEL lobby. Funky pictures are drawn (a hobby of the owner who likes art)
LOKAL HOSTEL was renovated in 2019, and the price of the dormitory room has been revised and the appearance of the room has changed, so it seems that there are no more rooms where you can stay for 300 pesos.
※View from the rooftop of the hostel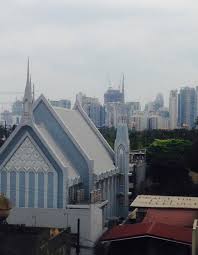 By the way, I don't recommend it to ordinary people. (It's on the 3rd floor, there are only stairs, and the club on the 1st floor is noisy all night, the worst security etc.)
I recommend it to people who like backpackers and don't mind sleeping with strangers. I think it was the cheapest price in Manila at that time.
I chose the type of room for 6 people and asked them to spend 350 pesos for 20 days, with a condition of staying at 300 pesos per night.
※300 peso= around 650yen (6USD)
Say goodbye to Ms. Ja and say hello to the foreigners who will share the room.
Since it was a hostel for backpackers from Europe, migrants from South Korea, Asia, etc.
Through the local hostel, I have been able to connect with different races and it is still a fortune.
After that, I stayed for around 100 nights in total there, so I made friends with the owner and went out to play with him in his car. I can't go there now, but the staff who always warmly welcomed me every time when I returned are still my best friends.
We sneaked into the neighboring Makati Palace Hotel with Koreans and Italians who became friends locally.
We went swimming every day in the pool on the top floor, and at night we went to a club named Black Market in Makati with a good-looking trio of backpackers from Europe and America and danced all night. ..
※The best friends I met at the hostel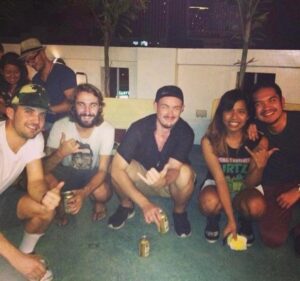 ※Black market ... A popular dance club for young people. Certainly the entrance fee is 100 pesos.
※ Rather than sneaking in, it seems that Italians, Koreans, and Japanese seemed to have money, so there were guards by the time we got to the pool, but they always smiled.
※Friend from Italy and the pool on the top floor of MAKATI PALACE HOTEL
We talk 24 hours a day with the beer I bought at FamilyMart in front of the hostel, we drink on the rooftop of the local hostel.
Or rather, I was playing for free. At that time I was a college student and I didn't have any money.
※Exchange meeting on the rooftop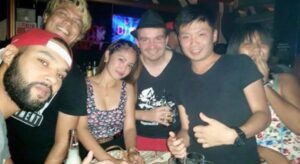 The purpose was to learn raw English well by using various English with people of various races, so I think it was a very reasonable action to learn English.
As a result, my English ability has improved dramatically, so how can I learn English from someone? When asked,
Don't hesitate to answer, "Take an airplane ticket and go to the site for the time being."
※Even if you go to overseas, it doesn't make sense if you stay at the hotel, so let's go out and communicate.
One day, when I was skateboarding through the slopes of Burgos Street and playing alone in Ayala Park, two Filipino old lady (about 50 years old) called out to me.
I thought I should ignore it, but they talked to me in Japanese, so I talked to them.
They spoke in Japanese, so I thought they were Japanese for a moment.
Then, they asked me, "We are going to Baclaran Market, so why don't you come with us?" And I got on the bus together.
Baclaran Market
The closest market to Makati, where you can find super-discount stores. A variety of things are available here at super-discount prices. Be careful as there are many pickpockets.
The cheapest market in the Philippines is the Divisoria Market, but Baclaran is also famous among locals because it is as cheap as Divisoria.
After arriving in Baclaran, the three of us went to Jollibee for lunch.
※Jollibee・・The cheapest and most popular fast food chain in the Philippines.
Two old lady's gave me a candy, so I didn't need it, but I ate it because something was wrong in front of me.
Without knowing that the candy was a sleeping pills..
I was suddenly drowsy and by the time I realized I was in a van. I remember laughing at a young woman I didn't know next to me.
And when I checked my wallet, only 1000 pesos remained.
By the time I noticed, I was returning to Burgos Street on my own.
At that time, on my first trip to the Philippines, I was worried about leaving money at a cheap hostel, so I carried almost all of my cash with me and put nearly 90,000 pesos in my wallet.
Perhaps it was at least kindness, leaving only 1000 pesos, it was stolen by two old lady around 90,000 pesos.
I wear rings and earrings, but they were all stolen.
I was so frustrated that I went to the police with my feet and talked about everything, but the scammer old lady couldn't be found, and for some reason I and police officer drove with a police car and they dropped me off at a karaoke shop. I remember the day was over when I was told something like "You should play here and make memories that you can forget." the police officer said.
In overseas,
・don't keep up with strangers
・Be careful if the locals speak in Japanese
・Be careful of Japanese people in abroad
In the seven years since then, I've been to the Philippines more than 200 times, but never it happened again.
It was a very expensive study fee.
Thank you for reading for a long time.
Lesson learned:Experience is the best teacher.
Regards,
hiro