Hello, it's hiro.
I have stayed at Daiwa Roynet Hotel Nishi-Shinjuku, the third in the Daiwa Roynet Hotel series, so I would like to review it quickly.
※It is an article that can be read in 3 minutes
Amazing location
The hotel is located a 3-minute walk from Nishi-Shinjuku Station and one step back from the main street.
By avoiding one main street, the impression is that even in Nishi-Shinjuku, the silence is further maintained.
Convenient to the station, perfect location😊
Unprecedentedly low parking lot of 1,500 yen / night
There is no other parking lot where you can stay in the middle of Tokyo for 1,500 yen / night!
I've stayed at over 100 hotels so far, but the parking lot of 1,500 yen is quite exceptional.
by the way,
28 cars are on a first-come, first-served basis (check-in 14: 00-), so if you are using the parking lot, please do not hesitate to contact to them.
I recommend that you should check in early🙇🏻‍♂️
I checked in at around 14:30 on weekday Wednesday, but it was already quite crowded.
I'm fully convinced that it's a popular hotel😊
"Standard double" from 21 square meters, can stay from 5,000 yen
I basically try to stay in the cheapest grade.
Because I'm poor and I don't have money lol
So, I used this time
Standard double, 21 square meters, of course the cheapest plan
Used on February 22, 2022, it was 5,363 yen😊
Is Nishi-Shinjuku the higher of the Daiwa Roynet Hotels?
Anyways, you can stay overnight in the middle of Tokyo for the 5000 yen range😊
Stable amenities, separate bath and toilet
My number one reason I love Daiwa Roynet Hotel is the bath
Anyway, it's up-to-date🙈
here for the bath for this time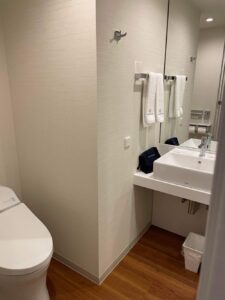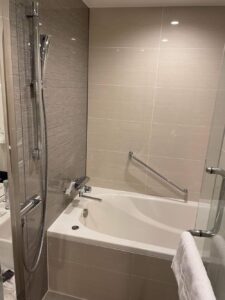 It has a function that automatically stops when hot water has accumulated.
It's a space where you can stretch your legs, and it's really wide.
I stayed at the official hotel of Universal Studios Japan last week,
Speaking only of the bath, it is comparable to the official hotel of Universal Studios Japan.
Remember, Daiwa Roynet Hotel is a business hotel.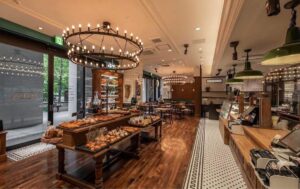 It's a business hotel that belongs to the cheapest category, right?
Others, amenities are the same type of humidifier, toothbrush, tea set, etc. as other Daiwa Roynet.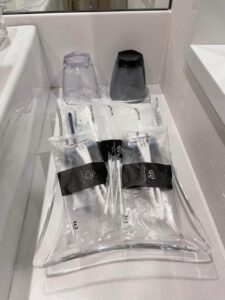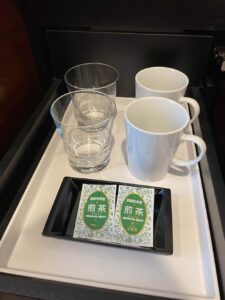 Good quality is prepared so that you can relax and feel comfortable.
Pocket WIFI worked fine
As I wrote in the review of Daiwa Roynet Hotel Ariake last month,
On the 13th floor of Daiwa Roynet Hotel Ariake, Rakuten Mobile didn't work well
On the 9th floor of Daiwa Roynet Hotel Nishi-Shinjuku, we were able to use wifi without any problems, so I would like to report it just in case😎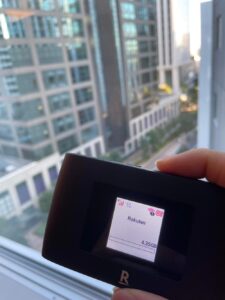 Breakfast is daisy
What surprised me when I stayed this time was
Her DAISSY bakery next to the hotel was ridiculous😊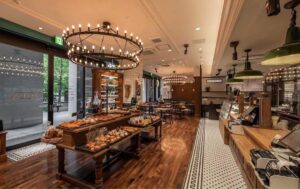 If you look it up, it looks like a chain store, and is it famous in Tokyo?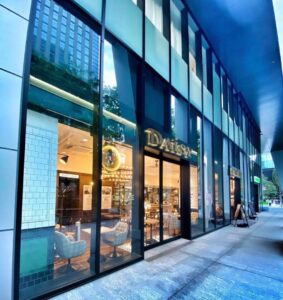 It was my first time in Tokyo because I had never heard of it, but the morning I ate there was excellent!
Especially, the taste of French toast (150 yen) was not good.❤️
There are various types of bread starting from 100 yen, so I bought three of them and brought them back to the hotel.
I think you can eat bread with coffee (the hotel's free service)😊
Comment
Location・・・★★★★★
※Some of agoda's reviews were harsh, such as being too quiet, nothing around, and far from the station.
please don't care those comments at all😊
A 3-minute walk to Nishi-Shinjuku Station, with a convenience store (located on the first basement floor, and there is also FamilyMart in the next building)
It was quiet, so I was able to sleep soundly.
Cost・・・★★★★★
It's enough to stay in the 5,000 yen range in central Tokyo
I was really surprised at the parking lot of 1,500 yen / night (and it was quite spacious and fashionable).
room・・・★★★★
Personally, Daiwa Roynet Hotel Ariake had a cleaner room, a better view, and I liked it because it wasn't too dark, so I gave it four stars.
However, Nishi-Shinjuku was also good at all😊
The radio wave of Youtube videos (overseas CNN, etc.) was not good, so I hope to improve it.
Also, the impression that the room is not well cleaned
It's been cleaned almost perfectly, but there was a little trash, so
Because the hotel is beautiful and new, I thought it was a waste.
I wondered if this could be improved soon.
Postscript
Overall, it was a  ★★★★★  hotel😊
I really like it❤️
When I used Daiwa Roynet Hotel Ariake, it took 20 to 30 minutes to get to the city center
In Nishi-Shinjuku, you can go to Shibuya, Shinjuku, Nakano, etc. at one or two stations, so the train fare has risen considerably.
I used Anytime Fitness, but it's about a 5-minute walk from Daiwa Roynet Hotel Nishi-Shinjuku.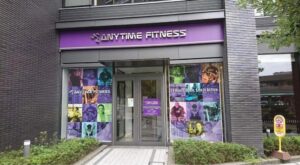 I am very satisfied that I was able to use it in a quiet place without any problems.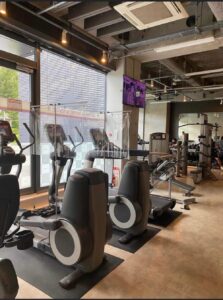 I used it at 5:30 in the early morning, but I was able to use it on the first ride.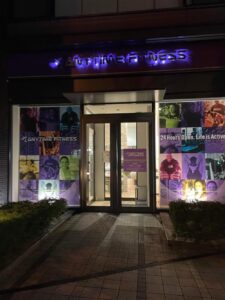 By the time I left after 6 o'clock, there were about 3 customers, but it wasn't as crowded as I imagined.
When I have a business in this hotel, Tokyo, I will definitely repeat it, so
It was also a nice point that Anytime Fitness was not crowded.
※I go to Anytime Fitness 7 times a week
Regards,
hiro