For some reason, I summarized the reasons why I came up with the idea of going on a solo trip to Cancun, Mexico, and my impressions.
Cancun travel package plans are very popular with North American expatriates (especially on the East Coast)
Emails from travel agencies arrived in the company's mailbox on a regular basis once a month via the Human Resources Department, and the travel agency's recommendation was Cancun.
In short, the company was recommending Cancun.
If the company recommends it, "I have to go now".
When I asked my colleague, they all said that they had been to Cancun once and that "all inclusive" was great.
I wanted to make as much as possible an experience that can only be done while in the United States.
For me, it was as if I had decided to go to Cancun from the beginning.
What is all-inclusive?
A hotel plan that already includes all expenses during your stay at the hotel in the travel price.
A hotel plan that includes meals and drinks, pool and relaxation fees, and activity fees within the hotel facilities.
A plan often used at overseas beach resort hotels such as Cancun and Maldives.
Cheap hotels start at around $ 100. However, the content will be appropriate for the price, so it seems better to have a budget of at least $ 200- $ 300 / night.
* I don't spend money on traveling, so I'm sorry I'm not talking about my experiences.
About travel expenses
I used to fly once a week on a business trip, so I had accumulated about 300,000 miles at that time, and I was able to go to Cancun ⇄ Raleigh at a cheap price of 35,000 miles, so I went to Cancun for free with the benefit of the company. ..
* Since this article was written from the perspective of traveling alone, I think that most of the people traveling to Cancun are with their families, but since it is written with the concept that traveling alone is fun in the resort area, please refer to it.
Choosing a hostel
In my case, I travel alone, so I would like to experience all-inclusive, but i don't like it alone.
This is the first ti,e in Cancun, so I would like to experience what Cancun is like.
I want to go not only resorts but also places where you can feel Mexico(buildings, nature, archaeological sites etc)
Here is the only hostel that meets all of the above items

Available for 16$ per night
Excellent location(around the resort area entrance)
Friendly staff
Soundproof and you can sleep quietly
Breakfast is excellent
Customers are all young handsome and beautiful ladies and can be friends
Honestly, I've never met a better hostel in my life.
If you are considering traveling alone to Cancun, please think that you have been deceived and stay overnight.
If you contact me, I will accompany you (if schedule is match)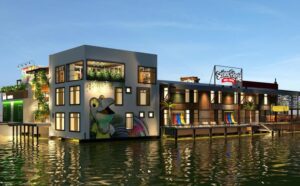 Solo trip Day 1:Stroll to La Isla Shopping Village
The most famous shopping mall in Cancun is here.
If you come here, you can find anything.
(Mexico, but it is a resort price, so everything is even higher than US)
I met Diego here who is arranging a tour of Cancun.
Diego was close in age, fluent in English and easy to communicate with, so I decided to take a tour of the archaeological sites recommended by Diego. (Rather, there are too many people who can't speak English)
Photos of Diego and his sisters.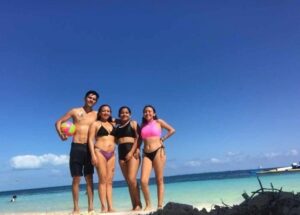 D&B TRAVELS's recommended video of La Isla Shopping Village link
Chichen Itza Ruins + Cenote Tour
Thanks to Diego's introduction, I was able to go with lunch for $ 50 (usually around $ 100)
Chichen Itza is a World Heritage Site and was a masterpiece.
Be careful on a bus tour
Don't drink too much tequila if recommended
It turned into a tequila festival on the way back from the bus, and it was fun, but a Mexican guy invited me to his hotel.
* In my own experience, I often invited by men, so I will not write details.
The rule of traveling alone, to protect yourself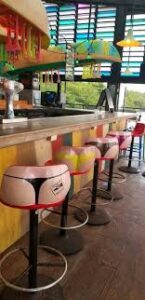 Cenote (I'm sorry, it looked like just a puddle. Cenote seems to be a hit. In my case, it's unlucky)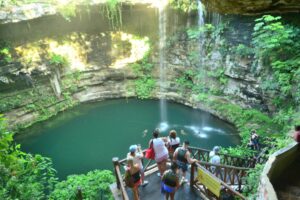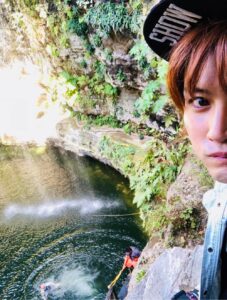 It was so high and scary, especially when getting off (second picture)
There was only one rope in the middle and I got off without a rope (it easily falls off)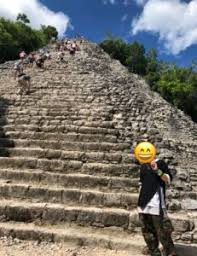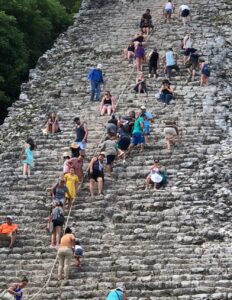 Kukurukan Plaza
On the second day, I went shopping with Diego to Kukurukan Plaza.
I was really surprized.
A gorgeous shopping mall comparable to the United States, with a lineup of high-end brands.
I instantly realized that it wasn't the place where I would come for $ 16 a night boy because the rich Mexicans and travelers would come, but it was a good experience.
Diego had a haircut at a hairdressing shop that seemed to be expensive.
To Islamic Jerez
I went to Isla Mujeres with Diego. His girlfriend lives there.
Access to Islamic Jerez
20 minutes by ferry from Puerto Fares Harbor
[/st-midasibox]
It was a very nice place to relax.
The view of the horizon was the most beautiful.
Diego met his girlfriend so I enjoyed traveling alone.
That's why he went to the beauty salon. He got haircut before going to see her, foreign boys are such cute, aren't they?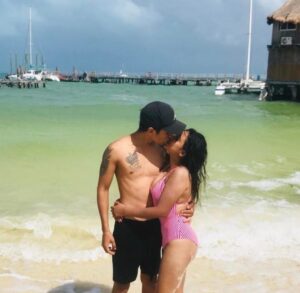 To Coco Bongo
I went to Diego's house and was introduced to Maria, a 20-year-old cute girl.
Maria loved Japanese anime and couldn't speak English, but somehow she could understand the language and became friends in an instant.
I was surprised to know her that she knows "Kamisama Kiss".
Thanks to Tomoe, I got to know her a lot lol
Coco Bongo is Cancun's most famous nightclub, with nightly shows and worth a visit.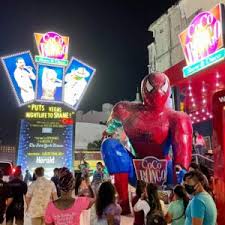 Click here for the video link of NAO-TABI CHANNEL Naoto, who introduces Coco Bongo
The price is completely differentfor locals and tourists.
I think it was about 70-80 dollars / person for travelers, but with the introduction of Diego, three people put it in for 60 dollars only.
Summary
「Isn't is stupid to travel alone to the resort town of Cancun?」
That's what I thought, but I really enjoyed it.
Cancun was a place where the resort area and the tourist area were completely separated, and if you stepped out of the resort area, you could feel Mexico, for better or for worse.
It is easy for ordinary travelers to go to places that they would not go to, but be aware that they will not be able to speak English.
After that, I was so addicted to Cancun that I went to Cancun four times by myself.
While I was in the United States, Cancun (Mexico) was the only place where I could feel Southeast Asia.
If you are considering traveling alone in Cancun, we would appreciate it if you could refer to it as much as possible.
Regards,
hiro