In October 2022, I successfully achieved the Hilton Honors diamond membership conditions, so this is a memorandum that I used Hilton Odawara for one night in commemoration.
Status at time of stay
・Date of stay: January 16, 2023
・Hilton Honors Status: Diamond
※Promoted from Gold in October 2022
・Create a Hilton Amex credit card in July 2022 and achieve 30 nights usage conditions
※4 months from July 2022 to October 2022
4 rank upgrade!
When I reserved a "Hilton twin room", I was upgraded to four "Japanese-Western deluxe" rooms of 54 square meters.
It was the moment when I realized the effect for the first time after becoming a diamond member.
(When I was a gold member, there was only one rank upgrade)
It says simple lounge, but it's wide!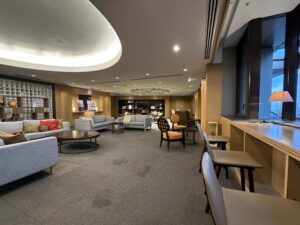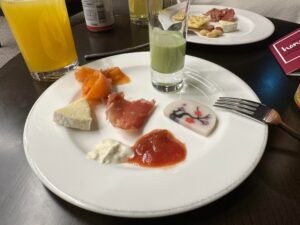 ※The Hilton Odawara Resort & Spa does not have an executive lounge.
It is an alternative simple lounge, but it can be used by Diamond members of Hilton Honors and customers of JTB eligible tours.
It sounds simple, but I was very happy with it.
However, I didn't have enough for dinner, so I was worried about ordering, but I went to Odawara station to eat.
It's different depending on the day at Hilton Nagoya, but sushi is served, so I can relax with rice.
There are blackout days throughout the building   *Caution
On January 16, 2023, when we stayed, there was a power outage in the entire building.
I received an email to that effect 3-4 days before my stay, and since there was no way to change my reservation, I decided to stay.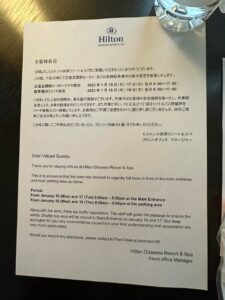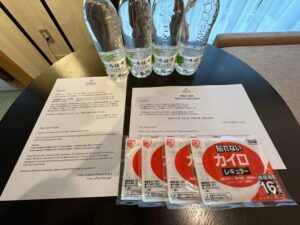 From 2:00 AM to 5:00 AM, all electricity will be cut off and you will not be able to use anything such as elevators.
this was the worst...
When I checked with the hotel after staying, I found that the website of the Hilton Odawara Resort & Spa stated that there was a power outage throughout the hotel.
I booked through the HPCJ site, so I didn't know that
※I have a lot to say about this matter, but I'll save that for another time.
A little introduction to the Japanese-Western style deluxe room
Twin bed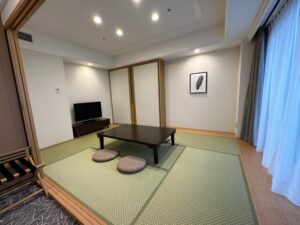 Tatami room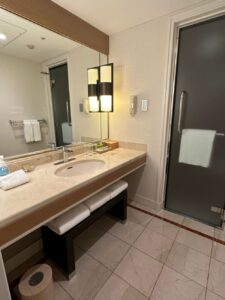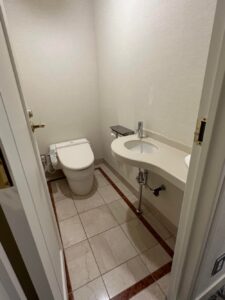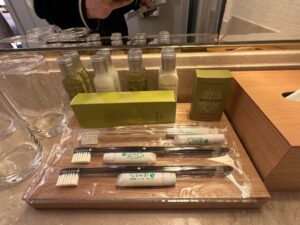 It was a four-person room, so I was happy to have everything for four people.
view from room
Despite the weather, the views were great.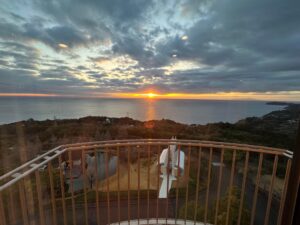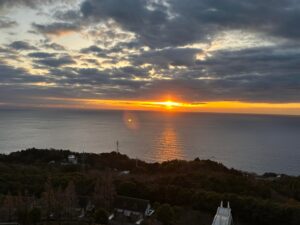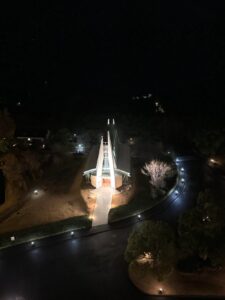 Recommended Japanese breakfast (great satisfaction)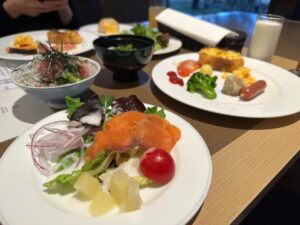 I was able to make a seafood bowl and have a meal of Odawara's specialty, and I was able to have a fun meal.
The Hilton Honors smoothie was delicious.
Review
I couldn't put it in the picture, but I was glad that there was a big heated pool and the pool was large enough.
Worth a visit if you love pools. Breakfast ◎ (especially recommended for those who like Japanese food)
Lastly, the power outage was quite painful (I was trapped in a room with no electricity for 3 hours).
I would appreciate it if you could help me with something.
Regards,
hiro