Hello, this is Hilton Mania.
I've been addicted to the Hilton Hotel for 5 years, and I always stay at the local "Hilton Nagoya" more than 20 times a year.
The women in the executive lounge are generally familiar faces.
Yes, the staff at the executive lounge at Hilton Nagoya are all women (and they are all beautiful for me)
No one will tell you, so you won't know unless you go.
The cake I received from the stuff in the lounge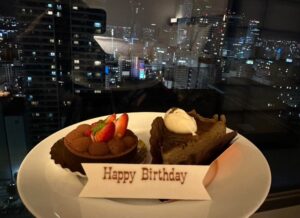 I will introduce you to the recommended points of Hilton Nagoya.
※An article that can be read in 3 minutes
Recommendation 1: Check-in at 15:00 (asap)
As a matter of course, if you expect a UG (upgrade), the earlier you check in at Hilton Nagoya, the better.
(I have stayed at Hilton Nagoya more than 100 times so far, but I am 100% UG)
Hilton Nagoya is a method that you can see at the counter at the time of check-in whether it was UG. Hilton Narita etc. will notify you in advance (although not always)
By the way, if you don't tell the staff what room you want, they will take care of a quiet room far from the elevator at the end of each floor. Be sure to tell people who prefer the elevator side or the middle.
At Hilton Nagoya, there is an ice server room on the elevator side of each floor, so if you need ice, you need to walk quite a bit from your room.
It feels like there's a lot of distance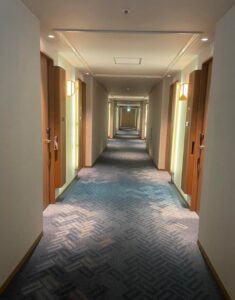 I make at least two round trips to harvest ice, so I'd like a room in the middle.
Recommendation 2: Get a free newspaper
I have previously registered for JAPAN TIMES (English newspaper) at the reception of Hilton Nagoya, and have received the newspaper free of charge. without ever telling you.
English newspapers can be used for many purposes, such as learning English or flea market (for packing), and above all, they are stylish.
Isn't miscellaneous goods wrapped in an English newspaper fashionable?
Hilton Tokyo Bay and Hilton Odaiba don't do newspaper service, so Hilton Nagoya is good.
Recommendation 3: The executive lounge's cocktail time starts at 5:30 p.m. It will definitely get crowded, so aim for after 18:30!
Cocktail time opens at 17:30 and closes at 21:05, but there is always a line before the opening.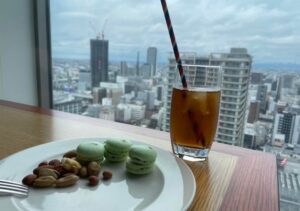 On busy days, the lounge policy often stipulates that one group can stay up to one hour, so if you go around 18:30, you can easily enter without lining up.
Also, this is a feeling, but if you go later, you will get delicious meals (melon, chirashi sushi, etc.)
Recommendation 4: Go for breakfast at 6:30 (in the case of IN-PLACE on the 1st floor)
I'm a typical morning person, so I love going to the breakfast hall at 6:30 when it opens and sitting wherever I like.
I recommend a seat in the row one row before the window.
I wouldn't recommend the window seat. Unexpectedly, it's a bit cold in the fall and winter because the cold air comes in from the outside.
Recommendation 5: If you go to the gym at night, it will be reserved
If you go to the gym after 24:00, you can use it for private use.
By the way, after breakfast, around 7:30 to 10:00, there will be a lot of uncles who are members of the gym, so I don't recommend it.
A group of good friends are chatting. There is also a sauna, and the men's changing room is full of naked men, so people like me who don't like seeing people naked should avoid this time.
Recommendation 6: If you're going to the pool, it's better to go after 10:30
If you go after 10:30, I feel that there are many days when it is relatively empty.
It depends on your luck.
Recommendation 7: The parking lot can be used 24 hours a day
If you check in at 15:00 and check out at 12:00, you can use the parking lot until 15:00 the next day.
You can walk to Nagoya Station in 10 minutes and Sakae in about 20 minutes, so you can do whatever you want in Nagoya when the parking lot is available.
A little while ago, the price went up from 1,300 yen to 2,000 yen per night, but I sincerely hope that it won't go up any more.
By the way, please note that if you pass even one minute of 24 hours, you will be charged 300 yen as overtime (I have been charged before).
Recommendation 8 About the bath
The only difference between KING HILTON DELUXE and KING EXECUTIVE ROOM is the bath.
The bathroom of the Hilton Deluxe is a unit bath (separate method with a shower curtain), while the bath of the Executive is separate from the bathroom and toilet, or rather, it is separated by a transparent door.
Of course executive is better if we say only bath.
Exe's bath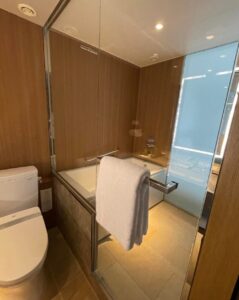 However, Hilton Deluxe has a larger room for the bath.
The price difference is a little over 1,000 yen, but if you want to focus on the bath, the executive is better, and if you want the comfort of the room, the Hilton Deluxe is better.
I don't know if the cheaper Hilton Deluxe room is more comfortable because it's not listed anywhere in the hotel specifications.
Recommendation 9: Use the message box of the Hilton app for conversations with hotel staff
I feel that Hilton Nagoya responds faster to messages than other Hiltons.
Some Hilton hotels do not have a message box, so it is very useful.
If you want me to bring you a humidifier, or if you contact me from the message box, it will come in about 5 minutes (and with water in it)
Recommended 10: 5 minutes by car to AEON MALL Nagoya Noritake Garden
When I stay at Hilton Nagoya, I always go to Aeon Mall Noritake.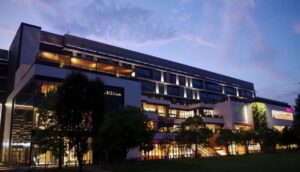 By the way, after eating at cocktail time, if you go after 19 o'clock, you can get snacks and cheap prices.
Aeon here has just been built and is very beautiful (especially at night), so please go there.
I would appreciate it if you could refer to it for those who are staying at Hilton Nagoya for the first time.
Regards,