AEON credit card is,
Unlike ordinary cards, you cannot use the card immediately after receiving it.
In particular, net caching and 3D secure authentication cannot be used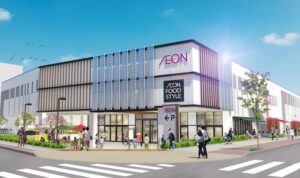 I checked with customer service
"You will be able to use the card after your identity verification information has been sent from Sagawa Express to the AEON Card office."
said the person in charge
Problem solved〜
It seems that there is absolutely no need to do anything.
It was a story that the card was mailed to my home and I couldn't use it immediately.
Yes, that's all I wanted to talking about, sorry.
as a side note
AEON CARD is advantageous to join now!
As of November 2022, AEON Card is running a great bargain campaign.
WAON POINT 10,000 present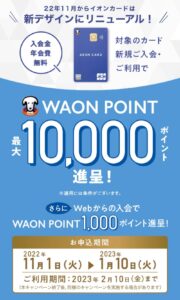 AEON Gold Card is issued to those who spend more than 500,000 yen on annual card shopping

Simply,
・Get 1,000 WAON POINT just by making a credit card
・Receive 10,000 WAON POINT just by spending 100,000 yen
・There is an invitation to a gold card just by spending 500,000 yen (usually 1 million yen)
And more,
Campaign to get 4,500 points for 1500 WAON points x 3 if you pay your utility bills with an AEON card
There are some, but I think the main ones are the top three.
In addition, you can get around 6,000 yen just by going through the point site.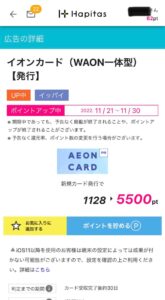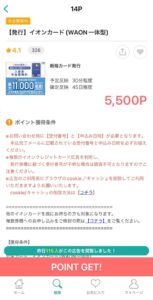 AEON Card Screening Criteria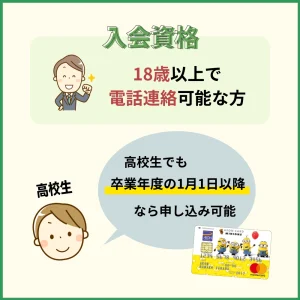 Only three,
18 years of age or older who can be contacted by phone
can confirm your identification
No financial accident information (negative information)
In short, anyone over the age of 18 can make one.
Get 6,000 yen just by making a card
Get 10,000 yen just by spending 100,000 yen
You can get a gold card just by spending 500,000 yen
Knowing this information from here, I applied on November 19, 2022.
Exploring richness LIFE QUEST's Youtube video (interesting)
A week later, on November 26th, I received the following email confirming that the screening process was completed (I was relieved that it didn't arrive for quite some time)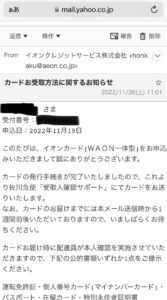 So, it was a story that it would be advantageous to make an AEON card now.
I am writing this article on November 28th. I still can't use net caching・・
As soon as you can use online cashing, charge au PAY, Mixi m and Amazon gift card worth 500,000 yen.
I'm trying to get an AEON Gold Card invitation as soon as possible.
I would appreciate it if you could refer to someone somewhere.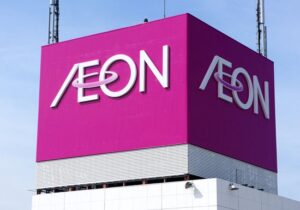 Regards,
hiro