I purchased 1 lot of Hilltop Villa in May 2019 and May 2020 respectively.
Please refer to the map below for location(where the Hiltop Villa is)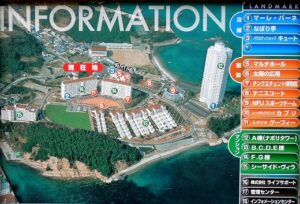 I will briefly explain how to find a property, recommended buildings, and my impressions after living there for three years.
※An article that can be read in 3 minutes
How to find properties in Citta Napoli
In my case, I started searching for properties through the following three routes.
1.  Contact Uniho Co., Ltd.
2. Google SUUMO and at home web site
3. Contact local real estate
Uniho Co., Ltd.
Uniho Co., Ltd. is a company headquartered in Nagoya that deals with real estate sales and management.
This is the management company of Citta Napoli (Hilltop Villa).
As a matter of course, we handle many properties for sale in Citta Napoli,
If you are considering purchasing it, it is definitely better to inquire at least once.
Google SUUMO and at home web site
In my case, I searched for SUUMO and purchased one room.
It takes about 2 hours by car to Citta Napoli from where I live, so I wanted to check everything at once.
Six properties that I was particularly interested in in the exchanges with Uniho, and three additional properties on the day were previewed.
On the same day, I also completed the preview of the one section of the property that I found at SUUMO.
Contact a local real estate company
In my case, the timing wasn't right and there were no vacancies in Citta Napoli.
However, when selling, it is easier to find a buyer if you ask not only SUUMO but also a local real estate company.
(It did not sell even after posting it on a real estate company in Nagoya for over a year, but when I posted it on House Do Handa, I received several inquiries within a week, and I was really surprised when the sale was decided in about two weeks. )
Which building do you recommend?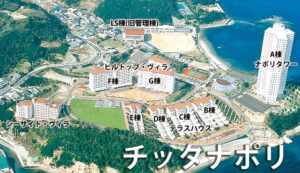 It's a dogmatic and prejudiced experience after living here for 3 years,
Napoli tower
Advantages: Concierge always stationed (only), pigeons do not come
Disadvantages: The higher you go, the stronger the wind.
Also, I personally didn't like the carpet on the floor.
Terraced House
Advantages: Terrace House!
Disadvantages: high maintenance costs, photos taken by visitors
It's fashionable, but the maintenance cost is high, and there are many stairs.
seaside villa
Advantages: close to port
Disadvantages: The parking lot is always full, the forest is close, so there are insects, there are many pigeons, and there are suspicious rooms full of LEDs.
It has the least resort feel (or almost none) *Personal impressions
hill top villa
Advantages: You can see all the buildings and satisfy your own desires, there is a sun square, it is cheap, and you can park as much as you want in the parking lot.
Disadvantages: Too many pigeons
I looked at all of them, but I thought that the Hilltop Villa was the best value for money.
I don't see eye contact with the person taking the picture, so that's good
Popularity of Citta Napoli (resale value)
This is the result of my review on a site called Mansion Note, where reviews and reviews of condominiums are described in detail.
In less than a year, I received an email saying that the reviews had been read 500 times...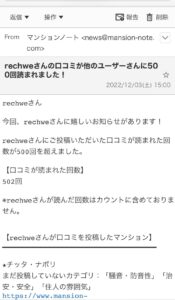 From this, you can see that a certain layer of people searched regularly.
It is a general review of Citta Napoli, but it is a feeling that it is neither good nor bad. Is it a good one for the age of the building?
Certainly people who don't have a car can't live normally lol
Current Situation of Citta Napoli
2020
Very quiet. Due to the corona disaster, I guess that the owners who only use it as a resort property hardly used it.
2021
There were so many people and girls with flashy cars coming to take pictures.
People are nice, but I don't like it when my house is in the picture.
2022
The large-scale repair work of Hill Top Villa is over, and it has become beautiful beyond recognition.
I feel like the number of people who come to take pictures has decreased.
Finaly
I have owned Citta Napoli for less than 3 years and have never regretted it.
Genkey and Cocokara Fine can be reached in 2-3 minutes by car, and Cainz home can be reached in about 15 minutes.
I like spending time relaxing in my room while looking at the beautiful scenery.
The closest Genkey has few customers, so you don't have to wait in line. There is no other resort like this in the three prefectures of Tokai.
Some people say that the management fee is high, but it is 13,800 yen for 35 square meters of Hilltop Villa (40 square meters at the core of the wall). For example, La Mercasa in Laguna Gamagori costs less than 20,000 yen for the smallest of 53 square meters. I think people who think this is expensive should not buy it.
By the way, if you use it 3-4 times a month like I do, the water bill is within 5 yen. In my case, 1 yen was withdrawn every month along with the rent. The electricity bill is about the basic rate plus α, and gas was not passed, so the maintenance fee for one room did not cost 20,000 yen.
If you are considering purchasing Citta Napoli, I would appreciate it if you could refer to it even a little.
P.S
It would be nice if the security guard could enter the empty gate, so I'm hoping that the management fee will increase a little.
Maybe it's because my child is growing up so freely, but everyone greets me.
It's different for each person, but for me, I wanted to say that Citta Napoli is a wonderful condominium, so I made an article.
Regards,