Hello, It's Hiro.
"I know that the number of Instagram followers in Japan is Naomi Watanabe's solo run, but what about the Philippines ...?"
I was curious about the number of Instagram followers in the Philippines, the Internet penetration rate, etc., so I investigated it.
Philippines Instagram Follower Ranking (August, 2021)
No.1・・・Anne Curtis 15.8M (@annecurtissmith)・・・Actress (female)
No.2・・・Pia Wurtzbach 11.5M (@piawurzbach)・・・Model (female)
No.3・・・Catriona Gray 10.6M (@catriona_gray)・・Model (female)
No.4・・・Julia barretto 9.9M (@juliabarretto)・・・Actress (female)
No.5・・・Yassi Pressman 8.5M (@yassipressman)・・・Model (female)
No.6・・・Angel Locsin 8.4M (@therealangellocsin)・・・Actress (female)
No.7・・・SOFIA 7.8M (@iamsofiaandres)・・・Model (female)
No.8・・・Sarah Lahbati 6.9M (@sarahlahbati)・・・Actress (female)
No.9・・・Heart Evangelista 6.9M (@iamhearte)・・・Designer (female)
No.10・・・James Reid 6.5M (@james)・・・Musician (male)
What!?
The result is that the 1st to 9th places are women!
Moreover, only young girls are ranked in.
As an aside, Ella Cruz, who I have met several times, was 13th and Arodia was 79th.(both are my favorite)
13位・・・Era Cruz 5.3M (@ellacruz)・・・Dancer
79位・・・Alodia Gosiengfiao 1.5M (alodia)・・・Cosplayer
In Japan's ranking, as of August 2021, Naomi Watanabe (9.5M) ranked first, followed by LRora (6.6M), and both countries have a high female rate.
By the way, in the world ranking, the number of Instagram followers of soccer player Cristiano Ronaldo is 300 million, which is a different dimension.
As a result of comparing the total number of followers in the top 10, Japan was 54.2M and the Philippines was 92.8M, which was overwhelmingly higher in the Philippines.
Comparing Internet penetration rates in Japan and the Philippines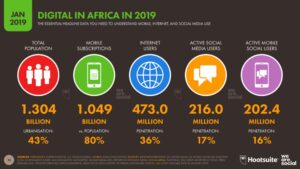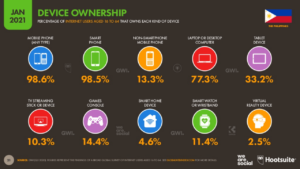 ▲Philippines Internet usage: Quoted from Digital 2021
Although it is a little old data, according to Digital 2019, the Internet penetration rate in Japan is 94%, while that in the Philippines is 71%, which is a big difference.
However, in terms of SNS penetration rate, the result was overwhelmingly high at 71% in the Philippines compared to 61% in Japan.
Philippines popular SNS ranking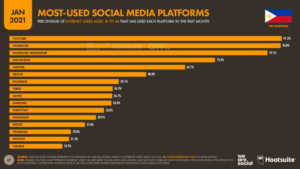 ▲Philippines SNS usage: Quoted from Digital 2021
Facebook boasts overwhelming popularity of SNS in the Philippines.
Facebook Messenger is by far the most popular message tool.
In other words, 71% of the Philippine people use the Internet, and 70% of them use SNS, so we can see that about half of the people use SNS.
In terms of numbers alone, it is half of the population, but in reality, the average number of accounts that one person has is as high as three, so there are 160 million accounts, which is three times the total population of 110 million, which is about half. It will exist.
Summary
I think there is a possibility of expanding SNS marketing by the number of accounts.
In the Philippines, where the population continues to grow rapidly, economic growth is tremendous, and the growth rate in 2020 has been predicted to be 6.1%, but due to the corona crisis, the GDP growth rate from January to March 2021 will be minus 4.2. It has been lowered to%, but I have great expectations for future development.
Regards,
hiro