Hello, it's Hiro.
This time, I would like to introduce you to the shopping malls that you should definitely visit when you go to Manila.
I have more than 200 experience in the Philippines, so I can recommend it with confidence.
1. Mall of ASIA
The first is the Mall of ASIA, commonly known as MOA.
According to the 2021 statistics, it is ranked 11th in the area of shopping malls in the world.
Access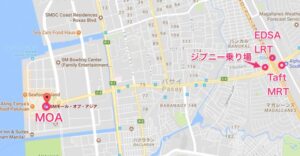 6.8km from Manila Airport, about 20 minutes away, I think most tourists going to Manila will go to MOA, so I will omit the details, but when I have an event management job, MOA has an SMX Convention Center, which is often used and often visited for big events in Manila for me.
Also, my recommendation is the seaside theme park along the coast.
It's open until late at night, and there are many children and younger generations even late at night. There are several bars, and I often use it for launching events.
It is also very popular as a date spot for young people.
When there was a big event at the SMX Convention Center, or when there was an event for a world-famous artist in the concert hall, everyone walked to the coast for about 10 minutes after the event, sat down and chatted lightly and went home.
If you are interested, please drop in at MOA's Seaside.
It's fun because a lot of young children stay up late at night and talk to me cheerfully.
I'm a handsome guy so I'm being called out every seconds, just kidding Lol
2.BGC(フォートボニファシオハイストリート)
There is one reason why I recommend BGC. I want everyone who has never been to BGC to be shocked by the culture shock.
As anyone who has been there knows, BGC is very stylish and urban. It is so sophisticated that it is not much different from the fashionable area of Tokyo. Image of the area around Venus Fort in Japan for me.
However, if you access from outside the BGC, you will definitely get caught in a traffic jam and it will take a long time, so if you go to the BGC, you should be prepared for the traffic jam.
Access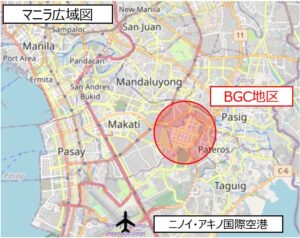 In my case, I used to go to BGC for photoshoot. As a Filipino who loves to take pictures, BGC is often the location if you want to take pictures against the backdrop of sophisticated urban landscapes.
In the case of shooting with the image of Tokyo, the location is BGC.
If you want to go to an urban and stylish mall, we recommend you to go to BGC.
3. SM CITY NORTH EDSA (Vertis North & Trinoma)
Although the companies themselves are different, these three are adjacent to each other, so I will introduce them all at once this time.
SM City North EDSA (commonly known as SM North) is the largest shopping mall in the Philippines, with the fifth largest area in the world. It's huge, and surprisingly, it's still under construction.
Access
It's a bit far from Manila Airport, but it's in Quezon City and I think it's well worth the trip. It is 21km away from Manila Airport, and even if the road is open, you should wait for an hour.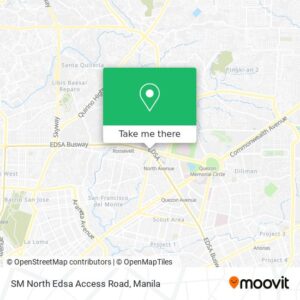 ※SM Megamall area between SM North and Manila Airport is the busiest area in Manila and you will inevitably be addicted to it as you will have to pass or detour here.
I don't like traffic, so I always took the train(MRT) to SM North.
By the way, I often hear that Manila trains are dangerous, but that's not the case at all.
※ I have used it more than 100 times in total, but I have never get dangerous situation.
However, the trains are also very crowded, so I think you should be prepared.
My recommendation in the SM North area is Vertis North.
This is the management of Ayala Land, but it has a sophisticated atmosphere of adults, which is different from BGC.
The building is very new and there are few people, so it is a little-known shopping area in me.
SM North, Trinoma, and Vertis North are connected via a bridge within a 3-minute walk, but everyone goes shopping to SM North or Trinoma, so only Vertis North is always vacant.
My guess is that SM Noerth and Trinoma are enough for shopping for daily necessities and food courts, so I wonder if Vertis North is a little-known spot.
Also, prices are a little higher than the other two.
As mentioned above, it is a huge shopping area and my favorite Vertis North is within walking distance, so I think you should definitely go to SM CITY NORTH EDSA when you go to Manila.
There are many other recommended shopping areas such as the Greenbelt area in Makati and SM Fairview, but there are three other shopping areas that I definitely should visit when I go to Manila.
f you are considering a trip to Manila, I hope that it will help you decide your destination.
Regards,
hiro