Hello, it's Hiro.
This time, I would like to introduce the recommended souvenir purchasing places in the Philippines for those who do not know what to buy as souvenirs when going to the Philippines.
Trust me, i have been to the Philippines more than 200 times.
It is a popular general store in Manila. Very cute things are sold at a bargain price and I highly recommend them.
There are a few country-style items, but you can buy notebooks, notebooks, pens, etc. for less than 100 pesos, and when you go there, you'll always find young girls and people of all ages.
In addition, I always visit the Philippines and papemelroti, so they remember my face at all the stores Lol
I don't think anyone dislikes miscellaneous goods, so there are many souvenir items that are good for men and women of all ages. Recommended for those who want to give their personality souvenirs.
Those who are in trouble with souvenirs, those who like overseas miscellaneous goods, those who like wall clocks and wall plates, please stop by and see for yourself.
In addition, if you become a member, you will receive a discount.
Some stores are very small, but my recommendation is the SM North store and the SM manila store. The SM megamall store is also large.
Dry mango
Needless to say, it's popular. If possible, I recommend that you buy at the shopping center instead of the open air outside, but when you buy at the shopping center, be sure to check the expiration date.
※Expired items are often displayed normally in the Philippines
However, there are so many types that I worry every time. Personally, 7D is sweet, and it's not too sweet or tasty to be cut small, so I choose one that is cut large and slightly higher. I think Cebu Mango is delicious, but I recommend you to try various things once and find your favorite brand.
There are articles that various people have compared, so please try google it. I love Cebu Mango.
Divisoria, Baclaran Market, Green Hills
Every market is similar, but I've summarized it briefly.
1. Divisolia
Location 13km away from Manila Airport, about 30 minutes by car
※It is recommended to go there in the morning or on Sunday due to heavy traffic.
I think you often go by taxi, but it's okay if you tell the driver 'Lucky China Town'.
Access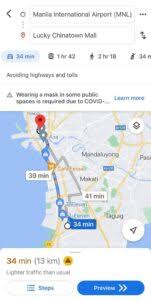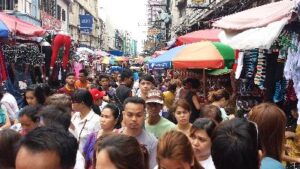 ※A shopping mall in the heart of Lucky Chinatown Divisoria
The biggest market in the Philippines that sells the cheapest is the Divisoria Market.
It's so wide that you can't go all around in one day. Most of them are brand-name fake shops, groceries, and clothing, but there are many different types such as magic shops, costume shops for cosplay, and K-POP icon shops. There are so many items and types that there is nothing that is not available in Divisoria. The quality depends on the item, so I recommend that you carefully examine it.
When I have time, I go to Divisoria by myself, but when I go, I try to avoid traffic jams and arrive at the site just before the opening.
Also, please note that Divisoria closes relatively quickly. It depends on the day, but at 19:00, all the stores will be closed all at once.
As soon as the store closes, the lights will go out and it will become a dangerous zone, so be sure to go home by then.
※Obviously, pickpockets are rampant, so I recommend that you do not carry valuables or extra cash with you.
2. Baclaran
Location 3.8 km away from Manila Airport. About 10 minutes by car.
If you go by taxi, you can go to Baclaran Church (Baclaran Church).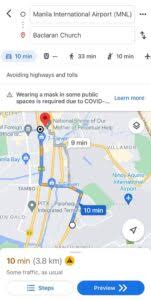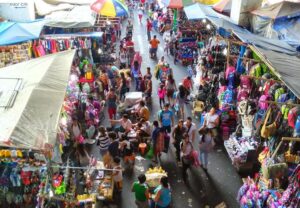 Access
※Baclaran Church in the center of Baclaran Market
Baclaran is the closest bargain market from Manila Airport. This is the place where I got pickpocketed after taking a medicine called candy lol
Is it less than half the size of Divisoria? The ones that are kept are not much different, but the Divisoria is better.
I recommend when you book a hotel near the airport and want to feel the atmosphere of the local market or when you want to do a little shopping.
Also, there is less traffic than Divisoria, so I think it is good for those who do not have much time.
If you have time, I recommend going to Divisoria. The level of danger is the same for both, and it is dangerous.
Try to walk fast, do not carry valuables, and do not put your cellphone in your pocket.
3. Greenhills
Location・・15km away from Manila Airport. About 40 minutes by car. When you go by taxi, you can tell Green Hills. Green Hills itself is a huge shopping center, so you can tell.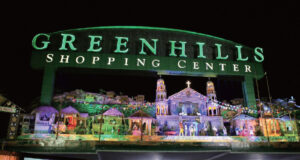 Access
The traffic is terrible because you have to go through Makati, but not as much as Divisoria.
The last one is Green Hills. This is a huge indoor market, and the main products are fake brand products, folk crafts and miscellaneous goods, groceries and clothing.
It's indoors, so it's much less dangerous (not zero) than Divisoria or Baclaran.
It seems that there are many Japanese, Chinese, and Korean customers, and when you enter, you will be struck by a bargain at the moment, so be prepared.
Especially in the fake brand products area, the stubbornness of bargaining is unusual.
My favorites are the area on the 2nd floor where gadgets are available and the figure store on the 3rd floor and above.
There are quite a few rare figures, and you can sometimes buy them at a super-discount price. Besides, there are no bargains, so you can shop slowly.
Those who do not want to feel dangerous, those who can tolerate bargaining, and those who like gadgets and figures are recommended to go to Green Hills.
There is a huge mall called megamall near Green Hills, so I think it would be nice to go to something while going to the megamall.
I have a lot of friends living in the Green Hills area, so I often use it when eating at restaurants.
I have briefly introduced some Filipino souvenir purchase places, but I would be happy if you could find even one that interests you.
Regards,
hiro