Hello, it's hiro.
I bought a used car last year(September 2021).
The name of the store is PROUD, an affordable car specialty store.

The quality of the shop I bought was by far the best, and it was the strongest in COSPA, so I would like to review it quickly!
※It is an article that can be read in 3 minutes
Purchase store
The store where I bought the car this time is the Gifu store
It was a little far, but I found it on the internet and the only car I really wanted was Gifu, so I took a two-hour drive to go out.
I gave priority to "cheapness", so it was a little expensive to have it carried to a nearby store.
I was also worried that it wouldn't sell out.
Conditions for choosing a car (what to prioritize)
I currently own four bogies, and one of them has broken down the Wagon R that I used for a little riding.
I searched for a good car instead of the Wagon R.
Terms and condition will be,
・all included(500,000 to 600,000 yen or less)
・Actual driving
・ Mileage of 80,000 km or less
・ If possible, Wagon R or Tanto (light with a wide living space)
・ If possible, white or black
It was roughly such a condition
I was planning to sell all my assets (cars, condominiums, etc.) by next summer.
I feel like I should be able to ride for about a year、
I searched for a car that was as good as possible.
Tanto Custom, 2010 model delivery
The specs of the car I bought this time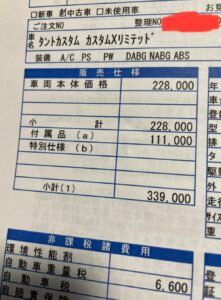 Color: Pearl White
Listing price: 228,000 yen
Model year: 2010
Mileage: 79,000 km
And the purpose I wanted to buy
・ The condition of the vehicle was actually good.
・ Guarantee of peace of mind (indefinite)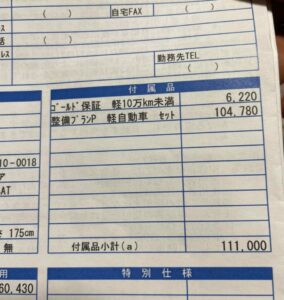 This  indefinite maintenance guarantee  was the biggest deciding factor.
After all, if it breaks, you can always have it fixed.
Having an indefinite warranty is a secondary consideration, such as the mileage and the condition of the car, so I was able to decide easily.
Recommended safe maintenance plan
This is it,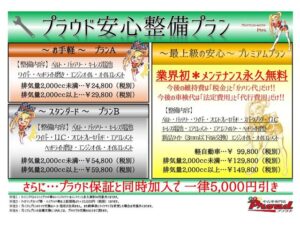 Maintenance is free forever!
Future maintenance costs are only tax and fuel costs!
The current vehicle inspection fee is only legal fee and agency fee!
Future vehicle inspection fees are only legal fees and agency fees!
Oil change, belt change, tire change, etc. are all free forever!
For a mini car, I put it in this guarantee for 109,780 yen. (I got a 5,000 yen discount with the after-sales guarantee discount)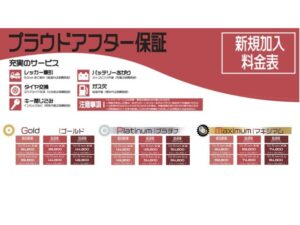 For a K car, I put it in this guarantee for 109,780 yen. (I got a 5,000 yen discount with the after-sales guarantee discount)
However, I was a little worried when the engine or mission broke, so I recommend that you also subscribe to the after-sales warranty.
I've changed about 10 cars, but I'm really surprised by Mr. Proud's permanent maintenance guarantee.
I've been riding for about half a year as of today, and I'm enjoying driving smoothly without any trouble.
The vehicle body price is 228,000 yen, and the permanent maintenance guarantee and after-sales guarantee are 111,000 yen, for a total of 339,000 yen.
I was able to purchase a Tanto Custom with a lifetime warranty.
If I have a chance to buy a car next time, I will buy it at Proud.
After all, it's a small car, no matter what kind of car you have, it's the easiest to drive.。
Regards,
hiro