How many credit cards do you have?
How many of them do you use?
I really want the Marriott Bonboy credit card now! lol
But I don't want to fail the screening!
There is a reason why I have to pass one time (more on this later)
So, I have summarized the credit card ownership rate per Japanese citizen, the number of credit cards owned, the optimum number of credit cards, the advantages and disadvantages of having a credit card, and what you can do to avoid failing the screening.
※It is an article that can be read in 3 minutes
Credit card ownership rate of Japanese citizens
According to a JCB questionnaire survey, the credit card ownership rate is 86.6%.
As for the number of cards, the ratio of 1 to 3 cards are 60%.
By the way, according to the statistics of the Ministry of Internal Affairs and Communications as of March 1, 2021, the total population of people aged 20 and over is 149.3 million.
The average number of credit cards owned by a Japanese adult is 2.8
By the way, I have  16  credit cards. ..
After cleaning my room, this is all that came out. lol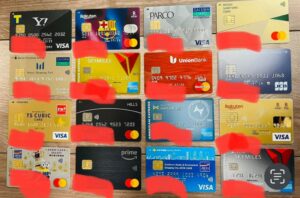 Even though it contains the four cards that I used in America, it's too much to laugh at.
I found out that some collectors have more than  50  credit cards, so I was a little relieved.
How many is ideal to have?
It seems that there are two.
the reasons are
・ Sole proprietors use it properly for work and private use.
・ If you carry too much, the risk of theft increases.
・ It is easy to manage passwords, points, etc. with one sheet.
・ If the credit card is damaged or a magnetic defect occurs, there is a replacement credit card.
and so on.
One point lesson
If you apply for 3 or more credit cards at the same time, the credit information will show "Application Black".
If the application becomes black, you will not be able to pass any card examination for at least 3 months, so do not apply multiple times.
Most credit cards have applied for 3 or more credit cards within half a year, and it seems to be difficult to pass the screening
Since the credit card application history remains in the personal credit information institution for only half a year, there is a possibility that even multiple applications will pass the one-chan screening if you apply after opening the institution.
The total credit line is the total credit limit of Credit card. Since the total credit line is low and there are many cases where the screening is caught, it is safe to keep the number of cards held to the minimum necessary.
The reason why I made too many credit cards
I was taken in by the privilege.
In particular, I remember that the benefits of making credit cards in the United States were far better than those of Japanese credit cards.
A credit card I wanted when I lived in the United States but couldn't make one
this one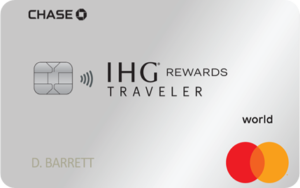 Chase is issued by a major company, and if you spend $ 3,000 within 3 months, you will get 125,000 points.
I could easily make a Hilton card with Amex, but IHG was a master card, so I failed the examination.
Credit history is of paramount importance in the United States, followed by years of residence.
I will write in detail in another article, but roughly speaking, it is difficult for people who have lived in the United States for less than one year to make credit cards other than Amex.
By the way, my current score in America is 784.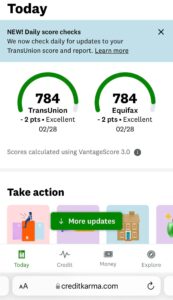 If it's 760 to 850, it's excellent and I think it's a pretty good person, but even this failed the screening. (I remember that the reason was that I didn't have enough years to live)
The credit card I usually use
Here are 5 cards. From top to bottom
Sumitomo Mitsui Card Gold (NL)
the reasons are
・ 1% reduction
・ Easy to use app
・ Many benefits
・ If you spend 1 million yen within 1 year, the annual membership fee will be free for many years + 10,000 points will be returned (so-called 1 million yen training)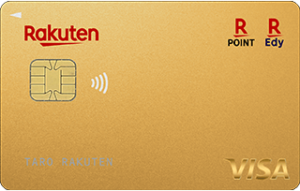 the reasons are
・Get Priority Pass for free
・ Rakuten area
・ You can pay up to 50,000 yen by credit card with Rakuten Securities and get 500 points every month.
the reasons are
・I made it by catching the benefits of Amazon for the first time, but there are many benefits of OKI DOKI points and it is the best card for Starbucks, Amazon, Mercari users
・ There are many partners, and the app is easy and fun to use.
Paypay Card(Yahoo Card)
the reasons are
・ Because I use Yahoo Auction and Paypay FRIMA on a daily basis
・There is not much merit as a blunt card, but Yahoo shopping users should keep the annual membership fee free.
the reasons are,
・I just like Ariake Garden
・ When I went to Tokyo, I was always in trouble with the parking lot, but I can park at the parking lot of Ariake Garden for 6 hours free of charge.
By the way, which credit card was issued? Survey (2021) is shown in the table below.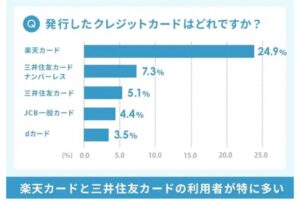 Rakuten Card, Sumitomo Mitsui NL, JCB Card, and the cards I usually use are exactly this.
Why you want to make a Marriott Bonboy credit card now
If you apply now, you can participate in a campaign where you can get 200,000 points for a limited time until April 5th.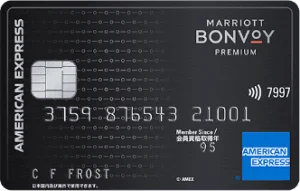 Click here to go to the official website
※From the official website, it will be 180,000 points, so if you want 200,000 points, please go to "Marriott Bonboy 200,000" and ask someone to introduce you.
Marriott in Japan is quite expensive, but overseas it starts from 6,000 yen, so I'm thinking of making a credit card for the purpose of using it in the Marriott series in Asia.
So, I'm thinking about changing from 16 to 5 by the end of this month and applying in April ~
Regards,
hiro