Hello, it's Hiro.
Do you have trouble choosing a parking lot every time you use the airport to travel abroad?
I was in trouble.
For someone like me who spends more than half a year on weekends abroad, the parking lot fee at the airport is pretty ridiculous.
I have a history of going abroad as a 'bullet traveler' every weekend when I was an office worker.
There is a way to use public transportation other than a car, but if you do not go straight by car on your way home from work, it may be difficult due to time constraints.
※since i usually go to the airport doing rush hour after work.
There are times when it is difficult to use public transportation due to a lot of luggage.
So, this time, I will focus on Chubu Centrair Airport, which I am always indebted to, and introduce three parking lots that I use every time.
I hope that it helps to those who use Chubu Centrair Airport.
1. Times Airport East Parking Lot (2nd and 3rd parking lots available)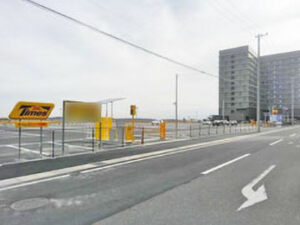 Absolutely great value at 880 yen / day (tax included)!
Access・・About 15 minutes on foot to the airport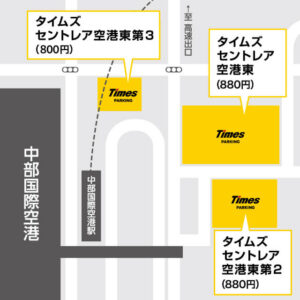 According to my research, it is probably the cheapest in the airport parking lot within a radius of 1 km from the airport.
The Centrair parking lot is 1,600 yen per night, so you can park at half the price.
It's a very popular parking lot, so it often fills up, but there is even a third parking lot, and the rotation is quite fast, so
Even when the car is full, it may be unexpectedly vacant if you wait for a while.
The biggest advantage of this parking lot is that you can park for as many days as you like.
However, you can park at the Centrair parking lot for a flat rate of 8,000 yen within 5 to 30 days, so if you are going abroad for 10 days or more, the Centrair parking lot is recommended. It's close and has a roof.
By the way, if you go farther, you can find a cheap parking lot near the station (eg, there is a parking lot for 200 yen per night within a 5-minute walk from Otagawa Station), but this is the cheapest parking lot near the airport. I think this is the best.
I used to use the parking lot near Otagawa Station several times in the past, but there was a waiting time until the Meitetsu train arrived at the airport, such as during early morning flights, so the train fee and time and effort were bothersome. I didn't make a fool of myself, so I stopped.
2. Tokyu Toyoko Inn
Did you all know?
If you use Tokyu Toyoko Inn for one night,
you can park for up to 10 nights for free!
To be precise, 240 hours of parking will be free!
In addition, since you can stay for about 6,000 yen per night, I think that you may use it in consideration of the planned travel period.
However, there are quite a lot of Chinese tourists and I have made reservations from a long time ago, so it is difficult to make reservations.
I've tried several times in the past, but I've never been able to make a reservation because I often plan trips at the last minute.
If you want to use it, we recommend that you make a reservation with plenty of time.
By the way, it's about a 10-minute walk from Toyoko Inn to Centrair Airport, but there is also a free shuttle bus, so it's really exhausting.
※Please note that you cannot park in this parking lot unless you stay overnight.
3. Centrair Airport Parking
If 1 or 2 is full, it's a bit expensive, but it's a good idea to park here in the Centrair parking lot.
・300 yen per hour
・Up to 1,600 yen per 24 hours a day
・Flat rate of 8,000 yen from the 5th to the 30th
※Add 1,000 yen every day after 30 days
It is possible to reserve the Centrair parking lot (reservation fee 1,000 yen), but if you use a credit card called 'Centrair Card',
The reservation fee of 1,000 yen is free, and you can also use the airport lounge for free.
If you create a gold card (11,000 yen per year), the parking fee of 15,000 yen per year will be free, and you can exchange the accumulated points for gift certificates that can be used at Centrair Airport, and most of the points at Centrair Airport. It can be used at the store.
At Centrair Airport, there are MUJI, bookstores, Starbucks, etc., which can be used at any store.
By the way, I'm a heavy user at Centrair Airport, so of course I'm a Gold Card member.
I hope this will help you even a bit choose a parking lot when traveling from Centrair Airport to Japan or overseas.
Regards,
hiro